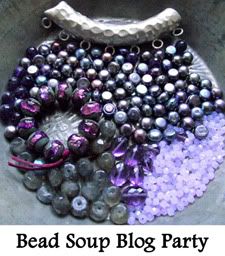 Come join me at Lori Anderson's Bead Soup Blog Party!!! Sign ups for the Bead Soup Blog Party are August 1-3, with reveal date September 17th. Last year she had over 200 participants in over 12 countries.
This twice-yearly event been mentioned in several magazines and the book is due out October 2012! I am so excited to join this time, I've already started pulling beads and things for it.
If you would like to join in on the fun, the full i
nformation is here:
http://lorianderson-beadso​upblogparty.blogspot.com/2​011/05/what-is-bead-soup-b​log-party-heres-how.html
All you need is a blog, beads, and a creative spirit! Visit Lori on her blog and website.